There are many types of bangs (or fringe in British English). You cannot go wrong with any type/style of bangs (fringe) as long as it suits your face. There is no need to follow the latest fashion. Just choose what looks the best on you. I had written a page about face types and hairstyles on
my website
. Below you can see examples of several different types/styles of bangs I found on internet to help you out with "bangs".
Above is a perfect example of very blunt cut bangs just below the eyebrows. The bangs are accentuating model's beautiful eyes. This dramatic image example is borrowed from shorthairwithbangs blog.
An example of straight across bangs that are touching eyebrows. This image example was borrowed from static.becomegorgeous.com
"Betty Paige bangs" are very short, straight across (above the eyebrows) cut bangs. I know a lot of you may shudder at this blue color, or even the bangs, but Katy Perry's face shape and skin color are actually complementing her hairstyle. This very dramatic image example is borrowed from
tumblr.com
website
While looking for good examples of different styles of bangs, I came across this beautifully executed asymmetrical blunt cut (straight across) bangs. The example is from
hairstyletwist.com
website.
BANGS FOLLOWING THE SHAPE OF YOUR EYEBROWS
Above is an example of bangs that are cut to follow this model's eyebrows. I love this type of bangs. The longest point is in the middle between her eyes and on the sides. Her jaw is square, but the style of these bangs make her face look a lot softer, because they break up the squareness. This image example is borrowed from hairdohairstyles.com website
These short wispy bangs can be created either by razor cutting or scissor cutting. The razor creates very wispy look without use of any other tool. I loved to do it for clients with fine straight hair. Another way to cut this type of bangs is to layer the bangs with scissors and then use thinning scissors to give the hair wispy look. I used this technique on people that didn't like the razor. This image example is from kaboodle.com website.
This model has a long version of wispy bangs. Use same techniques as above, only leave them longer. This image example is from short-haircuts.org website.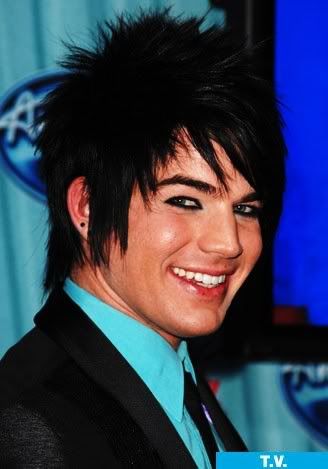 Adam Lambert's wispy and asymmetrical style that belongs to both WISPY BANGS and also SIDE SWEPT BANGS. I found this example on coolmenshair.com
The side swept bangs usually cover eyes if combed straight down and can be actually quite long. To achieve this fashionable look, hair should be parted quite far to the side. I found this fabulous image of Cameron Diaz on kaboodle.com website.
Coco Rochas' head turning side swept bangs. The color of dress compliments perfectly her hair color. I found this image example on shoppinglifestyle.com website.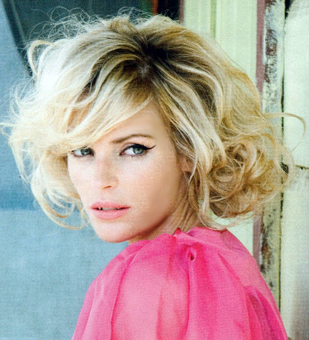 Another example of side swept bangs this time on wavy hair. I found this example on mynewhair.info