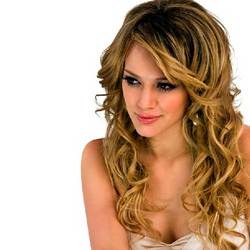 Question:
My hair is medium length and it is straight. Every time I curl my hair with a curling iron my curls go flat by the time I am finished with styling it. I follow the hairdresser's recommendation - I use a mouse on my damp hair, then blow-dry it, then curl small sections and immediately spray them with hair spray. However, my curls do not hold. What am I doing wrong? Do I need a new curling iron?
Answer:
From your description your hair seems to be pin straight. Some hair just will not hold curl for too long no matter what, especially if it is a "heavy" and/or long hair. If you had the styling done in the hair salon and curls held longer than when you do it at home, then you are leaving a slight moisture in your hair, which will cause your curls to "fall out". So, you would need to blow dry your hair even more dry (your curling iron may not dry your hair up entirely). You could also try to get a spray that is designed to use with curling irons (check with your local salon what they carry and ask for samples) instead of your mouse.
If your stylist has same problem as you do, then the only solution would to give yourself a perm on medium perming rods (light purple or combination of peach and purple) for those nice big waves that are fashionable these days. In the long run, your hair would grow out, however the permed area should hold the waves a lot better, provided that you would follow all the steps you usually do.
And lastly if your curling iron does not get hot enough, then you need a new one.
Credit:
The above image is from
http://styletips101.com/
Note:
This post should be taken as a first step for a discussion with your hairdresser and/or colorist about your ideas, desires or problems with your hair. Under no circumstances, you should act upon this post ONLY. I strongly advice you to have your hair done by a skilled and reputable hairdresser/colorist in your area.